La Quinta Business Lawyer
La Quinta Business Attorney Paul Stoddard
For many years, La Quinta Business Lawyer Paul M. Stoddard has been helping clients in matters of real estate, bankruptcy, civil litigation, and business. He and his legal team offer effective representation for those in La Quinta and throughout the desert community, San Bernardino, Riverside, and people from Canada as well.
Individuals, families, and businesses are provided with dependable and professional service from the Law Offices of Paul M. Stoddard. Our many positive reviews demonstrate that even complex legal challenges can be resolved in an ethical and cost-effective manner.
Although known for adeptly handling the full range of civil litigation, real estate, business, and bankruptcy issues, Mr. Stoddard's rates are highly competitive. To make arrangements for a legal consultation with La Quinta Attorney Stoddard, call (760) 320-8345.
Knowledgeable Legal Services in La Quinta, California
Having more than three decades of experience, Business Lawyer and Real Estate Attorney Paul Stoddard has the insight needed to straighten out a stressful legal situation and get things back on track. He looks to protect clients from business liabilities while taking the steps needed to foster future success. Many clients are looking for a fresh start and benefit from Mr. Stoddard's counsel. He also helps resolve legal disputes and protect investments. La Quinta Attorney Paul Stoddard is dedicated to gaining positive outcomes for his clients.
Business Law Lawyer | Help for Small Businesses
With his noteworthy experience, Business Attorney Stoddard understands what goes into a good business decision. There are numerous critical aspects of operating a company that need to be considered. Even one single decision can greatly impact the future of a business. La Quinta Business Law Attorney Paul Stoddard advocates for and defends client interests in all business litigation matters, including those involving business tort law. He is a diligent civil litigation lawyer who works to reduce liability and prepare your company to reach your goals for growth. Our law firm assists clients in the following kinds of issues:
ADA Defense Attorney | Lawsuit Defense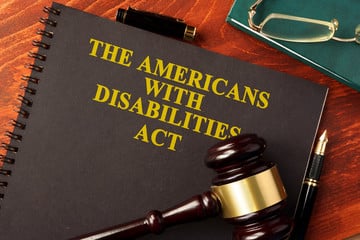 If you own a small business that is the target of a lawsuit over alleged ADA violations, our business law firm can help. We have experience defending clients in this situation. ADA Defense Lawyer Stoddard aggressively fights ADA accessibility claims.
Business Formation Lawyer | Help for New Businesses
Are you starting a new enterprise? When forming a new business, it is important that the proper business structure is implemented so as to protect the interests of all parties involved. Business Formation Attorney Stoddard can guide you in making a sensible choice.
Business Transaction Lawyer | Business Contract Attorney
Successful business relationships are built on properly executed contracts and business transactions. As a knowledgeable business contract lawyer, Mr. Stoddard reviews, creates, and negotiates business contracts to make sure client interests are protected and liabilities are minimized.
La Quinta Bankruptcy Lawyer
When unpaid bills become an unbearable weight and source of stress, we work to help you find relief. La Quinta Bankruptcy Attorney Stoddard analyzes the client's situation to see if filing for Chapter 7 bankruptcy is the right solution. Our bankruptcy law firm has been helping people get out of debt for many years. We also provide representation in bankruptcy hearings for creditors and debtors.
Real Estate Attorney | Protecting Investments
Whether you are dealing with construction law, commercial lease, or land use issues, Real Estate Lawyer Paul M. Stoddard provides representation for sellers, buyers, developers, builders, and other parties that are involved in real estate business. He makes sure that your real estate transactions are completed properly. Mr. Stoddard is also a reliable real estate litigation lawyer who is able to resolve real estate disputes in an effective manner.
Canadian Real Estate Attorney in La Quinta, CA
La Quinta Lawyer Stoddard has assisted many Canadian citizens in purchasing or selling real estate in California. Are you a Canadian citizen in need of transactional representation? Our law firm provides sound guidance throughout the process.
Representation for Specific Businesses
La Quinta Business Attorney Stoddard has worked with business owners in a range of industries and has gained specific insights into how best to serve them:
Consult La Quinta Business Lawyer Paul Stoddard
Attorney Paul M. Stoddard provides legal services to the entire state of California, including the communities in and around Coachella as well as to clients living elsewhere in the U.S. and Canada who are doing business in the desert area. To make an appointment and find out how we can help, dial (760) 320-8345 or use our online case evaluation form. We will get in contact with you as soon as we can.