Palm Desert Business Torts Attorney Paul Stoddard
Business Torts Lawyer Paul Stoddard offers knowledgeable legal representation to corporations and other businesses throughout Southern California.
Dedicated to protecting the best interests of our clients, Business Lawyer Paul Stoddard fights vigorously for both plaintiff and defendant companies involved in business tort disputes. Unlike most business law matters, plaintiff companies may seek and be awarded punitive damages when they are able to prove that they have sustained damage to their reputation or a monetary loss due to specific conduct.
Because business tort disputes typically result in highly complex litigation, it is essential to retain an attorney who has extensive courtroom experience and a proven record of success. Business Attorney Paul Stoddard has more than 35 years' experience aggressively representing clients in a wide variety of business litigation matters.
If you believe that your company has been the victim of a business torts or are being sued for commission of such, contact Palm Desert Business Torts Lawyer Paul Stoddard at (760) 320-8345 to schedule an appointment for a comprehensive consultation.
Our highly skilled business attorney will meet with you to review the circumstances that led to your dispute and provide you with an honest case analysis.
We are devoted to providing personalized legal counsel and representation. All client communications will be addressed quickly, and we will regularly update you about the status of your case.
Highly Knowledgeable Business Torts Attorney in Palm Desert
The Law Offices of Paul M. Stoddard represents clients in a wide variety of business tort disputes, including those arising as the result of: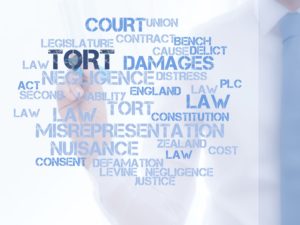 Breach of Fiduciary Duty – Actions taken by a Corporate Officer or Director that are adverse to shareholders' best interests.
Interference with Existing Contractual Relationships – A business tort defined as intentionally causing one party to a contract to breach their existing business contract with another.
Interference with Prospective Economic Advantage – Tortious conduct commonly defined as knowingly interfering with another's probable economic business interest, with the intent to cause the business relationship to be disrupted.
Tortious Breach of Contract – Unlike most breach of contract cases, tortious breach of contract occurs when one party to a contract enters into a contract fraudulently or breaches the contract in bad faith.
Trade Libel – Knowingly making false and disparaging comments about the quality of a company's service or products.
Trade Secret Violations – Disclosing secret, valuable information to an individual or another company about a business (typically pertaining to intellectual property or proprietary information).
Unfair Business Competition – Engaging in deceptive, unfair or misleading business practices for economic advantage.
Business Torts Attorney Paul Stoddard is a seasoned litigator who will fight zealously to safeguard the best interests of your company.
Call an Experienced Palm Desert Business Torts Lawyer Today
Whether you are being accused of engaging in conduct towards a business that could be deemed tortious in nature, or you have been the victim of a business tort, contact our Palm Desert Business Torts Attorney for skilled legal assistance.
Call (760) 320-8345 to set up an appointment for an in-depth consultation with Business Lawyer Paul Stoddard. He will answer your questions, address your concerns, explore your options, and help you determine the best course of action to take. We can also be reached online through our Case Evaluation Form.
From our office in Palm Desert, we can serve the needs of all business clients throughout Southern California.