Blythe Business Lawyer | Paul Stoddard
Blythe Business Attorney Paul M. Stoddard has over three decades of experience in real estate, bankruptcy, civil litigation, and related business matters. He offers dependable representation to those who work and live in Blythe as well as in the surrounding desert communities of Riverside County, San Bernardino County, and in Canada.
The Law Offices of Paul M. Stoddard guide businesses, families, and individual entrepreneurs and clients with insightful, effective guidance. Our success speaks to our ability to address complex legal issues, and we do so in an affordable and ethical manner.
Although Attorney Stoddard resolves the full range of civil litigation, real estate, business, and bankruptcy matters, he keeps his rates reasonable. To arrange a consultation, contact our office at (760) 320-8345.
Effective Legal Guidance in Blythe, California
Having so much experience, Business Attorney and Real Estate Lawyer Paul Stoddard is able to share his knowledge and insights with clients as he helps them resolve legal matters that could otherwise become overly stressful. He looks for ways to reduce or eliminate potential liabilities as he strengthens the success of their future business ventures. If you are ready for a fresh start financially, Mr. Stoddard is able to guide you through the process sensibly. He assists clients dealing with legal disputes and acts to safeguard their investments. He works diligently in creating positive outcomes.
Business Law Lawyer Helping Small Businesses
With the skill that Business Lawyer Stoddard has developed over the years, he is well aware of what goes into making a prudent business decision. A variety of factors may come into play, as even a small detail or seemingly inconsequential choice can end up having a larger impact on future circumstances. Blythe Law Attorney Stoddard stands up for client interests in matters related to business torts and other business litigation. He is a strong civil litigation lawyer who protects clients by reducing liabilities and creating a path to growth and future goals. Our law office assists with many kinds of legal matters:
ADA Defense Attorney | Protection Against Lawsuits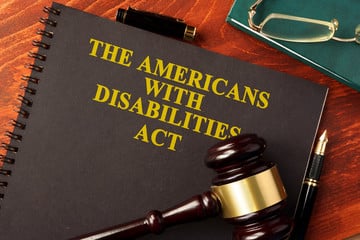 If your small business has been targeted for an ADA violation lawsuit, our law firm can help. The Law Offices of Paul M. Stoddard provide lawsuit defense for business owners. He advocates for the rights of your small business when charged with an ADA accessibility claim.
Business Formation Lawyer | Starting a New Business
Finding the proper business structure for a new venture is vital to its future success. Taking the right steps at the outset will protect the interests of owners and other relevant parties. Mr. Stoddard is a knowledgeable business formation attorney who can advise you on creating a strong foundation for your new enterprise.
Business Transaction Lawyer | Business Contract Attorney
When forging strong business relationships, it is crucial that business contracts and transactions are executed properly. As an experienced business contract lawyer, Mr. Stoddard skillfully negotiates, writes, and reviews your business contracts to make certain that your interests are protected and any liabilities are eliminated or reduced.
Blythe Bankruptcy Lawyer
In situations where debt has taken over and become overwhelming, The Law Offices of Paul M. Stoddard may be able to resolve the situation. Blythe Bankruptcy Attorney Stoddard will consider your finances to see if filing for Chapter 7 bankruptcy is the answer. With our many years of assisting clients in bankruptcy matters, we have what it takes to help you start fresh too. Mr. Stoddard provides representation in bankruptcy hearings for debtors as well as for creditors, so he is able to provide timely insights for both.
Real Estate Attorney | Safeguarding Investments
If you have questions or concerns about construction law, commercial leases, or land use, consult Real Estate Lawyer Paul Stoddard. He works to protect the interests of clients who are builders, buyers, sellers, developers, and other parties so that real estate transactions are completed properly. If matters develop into a litigious situation, Attorney Stoddard will advocate for your interests. He is a reliable real estate litigation attorney who works to resolve real estate disputes efficiently.
Canadian Real Estate Attorney for Blythe, CA
Attorney Stoddard advises and represents Canadian citizens who wish to purchase or sell real estate in California. Are you a Canadian citizen in need of representation for a real estate transaction in the desert area? Mr. Stoddard provides effective guidance from beginning to end.
Legal Counsel for Specific Businesses
Business owners and entrepreneurs in many industries benefit from the advice and counsel of Blythe Attorney Stoddard. His experience has given him specific insights for reaching goals in various fields:
Gain Advice from Blythe Attorney Paul Stoddard
By offering insightful legal service to clients in Blythe and across the state of California, United States, and Canada, Lawyer Paul M. Stoddard provides the representation needed to uphold the interests of your business and protect you in real estate matters. Contact our business law firm through our case evaluation form or phone us at (760) 320-8345 to schedule your consultation.